Doctor of Commerce
(Kobe University)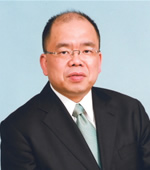 Title
Professor of Marketing
Specialized Fields
Global Marketing, Distribution System, The Strategy and Behavior of Japanese and Foreign Multinationals, particularly in China.
Fields of Interest
Specializing in Global Marketing, the strategies and behavior of the MNCs. Research of the structure reform of Chinese economy, and the behavior of big companies in China. Specializing in theory of development of market system and distribution system.
Current Research
See also Japanese page
Understanding Interactive User Behavior in Smart Media Content Service: An Integration of TAM and Smart Service Belief Factors (co-author with Biao Gao), Heliyon, 5 (2019), pp.1-13, Cell Press, Dec.06, 12, 2019 (WOS PubMed ID: 31872134).
"日中两国社会集团人情观浅析", Kobe University Discussion Paper Series, 2019. (coauthored with 黄梅, 任晗, 陳維政)
"Japan Study as a Public Good in Asia", Springer, February 2019
"Japanese Social Welfare System Reform and Transformation of Social Governance", (co-authored with Jin-wen Song), Japan Study as a Public Good in Asia, p.3-15, February 2019
『中国企業競争力的結構和特点』, The 22th Annual International Symposium, 2016.
"The modernization of fresh food retailing in China: The role of consumers", (co-authored with Masayoshi Maruyama and Lihui Wu), Journal of Retailing and Consumer Services, 30, 33-39, 2016.
"How consumer characteristics moderate time effects on online purchase preference: an empirical analysis", (co-authored with Li, Zhen), Asia Marketing Journal, 16(3), 1-22, 2014.
"Competition Based on Marketing Resources", China INFORMATION, A Journal on Contemporary China Studies, Vol XXIII(1), SAGE Publications, March 2009, 129-157.
"Marketing-Resources Based Competition: Strategies for the Catch-up of South Korean Firms, the Latecomers in the Chinese Market", in Sato, Y. and M. Kawakami ed. Competition and Cooperation among Asian Enterprises in China, Institute of Developing Economies, JETRO, March 2007, 119-146.
Market Integration and Inter-province Freight Flows in China, The Annals of the Graduate School of Business Administration, Kobe University, No.44, 2000年, 69-90.
"Global Marketing Innovation, Marketing:Tasks and Perspectives", Kyungpook National University Press(Korea), 1997.
"Choice of Market Entry Mode in Emerging Markets: Influences of Entry Strategy in China", Journal of Global Marketing, International Business Press, 2000, 83-109.
Marketing Strategy of BMW in Japan, Management Japan, International Management Association of Japan, 1992, 27-31.