Message from the Dean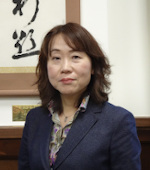 The Dean of Graduate School of Business Administration
Chieko Minami
Email:

The COVID-19 pandemic starting last year has brought unprecedented challenges for our society. We are still facing difficult situations due to the risks. These circumstances have had some negative effects on our active learning and on the global networks for both research and education which we developed for so long. On the other hand, we have been seeking effective ways through digital technologies and maintained the quality of education and research. Our goal remains unchanged. We will continue to foster global leaders in both academia and the business world in any turbulent circumstances.
As the first business administration school in Japan, The Graduate School of Business Administration holds an important position in academia and has a distinct history. Since its foundation, our philosophy has been "theory and practice should go together." Under this philosophy, we seek to serve industries and society by making the research outcomes of management studies available. Open discussion and interactions between academia and business practitioners are encouraged.
We offer a Ph.D. course, an MBA course, and an undergraduate course, which allow students to pursue their own goals. In 2013, Strategic Entrepreneurship and Sustainability Alliance Management Initiatives (SESAMI) was introduced as an educational program to provide a more international environment for Master's and Ph.D. courses. In addition, we started international doctoral programs in collaboration with overseas universities (IDPs) in 2017. We have established global links with world-leading universities and developed student exchange programs. Kobe International Business Education and Research (KIBER) is one of our successful programs that allows undergraduate students to access global networks.
The Graduate School of Business Administration has over 60 faculty members who are engaged in world-class research in broad fields of business administration with various academic approaches. Over 600 Ph.D. holders and doctorate degree holders have graduated from our school.
Kobe University is located in the Rokko Mountains and overlooks Osaka Bay. The spectacular setting and surrounding environment, together with the academic atmosphere, make Kobe University special. We expect interest in our university and academic activities to grow.
April 1, 2020