Ph.D. in Industrial and Business Studies
(University of Warwick)
Doctor of Business Administration
(Kobe University)



URL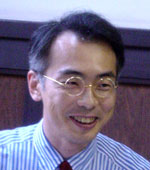 Title
Professor of Human Resource Management
Specialized Fields
Human Resource Management, Organization Theories and Industrial Relations
Fields of Interest
Influences of IT on organizations and human resources; management education
Current Research
Management Education in Japan, Chandos Oxford Publishing, 2007 (co-authored with Morita, M. and Okabe, Y.).
Industrial Innovation in Japan, Routledge, 2008 (co-edited/authored with Hara, T. and Matsushima, N.).
'Culture-specific IT use in Japanese factories', Asian Business & Management Journal, Vol. 3, No. 2, June 2004, 241-262.
Cultural Influences on IT Use: A UK-Japanese Comparison, Palgrave Macmillan, 2002.
"Cultural influences on IT use amongst factory managers:a UK-Japanese comparison"(co-authored with Harry Scarbrough),Journal of Information Technology, Vol.16, No.4, 2001, 221-236.
"Changes in organisational structure and new development in personnel management", Journal of Japanese Economic Studies, Vol.23, No.5, 1995, 74-96.
"New forms of management organisation under new technology: empirical evidence from Japanese manufacturing companies", Management, Vol.3, No.1, 1996, 17-27.